Curd Rice - well not really!
This recipe is..... I don't know where this one came from. The origins are a bit unclear, coz one day I went into the kitchen, saw some left over boiled rice and yogurt in the fridge and I came out of the kitchen with this! - but I'm sure there are many versions of this recipe known to many of you. So any suggestions or tips will be most welcome!!
I call them "Dahi ke chawal" = Curd Rice or Yogurt Rice.
And I know that there is a different south-indian rice dish called 'Curd Rice' as well, that one has tamarind juice/lemon juice in it. So, if thats the one that you know, then this isn't the same.
May be I'll call it
Yogurt Rice
to keep the two different. This is a much much simpler version I think and oh so easy to make!
OK.
Dahi ke Chawal OR Yogurt Rice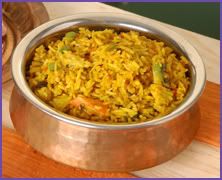 My favourite snack/meal in a rush!
Ingredients --
3 bowls of boiled Rice, preferably Basmati as that tastes n smells nice! And yes, left overs will do!
1 cup yogurt, beaten to a smooth paste with a spoon. Can add 1/4 cup water to the yogurt if its very thick.
1 chopped chilli
2-3 table spoons of oil
2 teaspoons of turmeric powder *haldi*
1 teaspoon of mustard seeds *rai*
a few curry leaves
Chilli flakes (optional or how hot u'd like)
Salt to taste
Method --
1. Add oil in a hot pan.
2. Add mustard seeds and leave for a minute till they begin to splutter.
3. Add the chopped chilli, turmeric powder, curry leaves and chilli flakes.
4. Add the boiled rice to the pan and mix well.
5. Add the beaten yogurt to the rice in the pan and salt to taste. Mix well and cook for 2 minutes.
6. ENJOY - with or without pickles!!