Pasta - for beginners!
Right....
Now I'm sure even before my saying it, you all very well know that there are about a million and one ways of making pasta. So, I'll let you in, on all the kinds that I know how - one by one.
This post - we'll start at the basics to bring those completely inexperienced folks upto speed with making a simple pasta.
Vegetable Pasta in Tomato sauce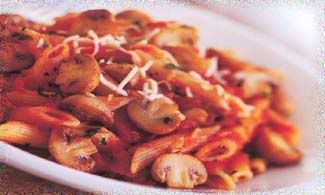 Ingredients --
1 packet Penne Pasta
1 jar of Tomato Pasta sauce
-- OR you may just use Tomato puree
-- OR just finely chopped tomatoes - we'll work on it!
1 onion cut in small pieces
1/2 green capsicum cut in small pieces
a few white button mushrooms halved/thinly sliced
a few table spoons of olive oil(preferable)/cooking oil
Chilli flakes (optional or how hot u'd like)
Powdered Black pepper
Salt to taste
a few Basil leaves for dressing
Method --
1. Cook the pasta according to the instructions in the packet. Drain and put aside.
2. In a wide pan, heat the oil, then add onions to it. Cook till the onions are golden brown.
3. Add capsicum and mushrooms and cook for 2 minutes.
4. Add the Pasta sauce and bring the mixture to a steady simmer.
-- Here the ones using the tomato puree or chopped tomato with add that - then cook till the tomatoes turn to paste (Can add a bit of hot water) Also add a very small teaspoon garlic paste *if you like*. If the contents don't seem saucy enough - add some tomato ketchup!! *if you want to cheat! :P*
And bring the whole mixture to a steady simmer.
5. Add the boiled pasta and season with black pepper powder, chilli flakes *yes! I know I love my chilli flakes!!* and salt.
6. Pour in a bowl and dress it with parmesan cheese and basil leaves.
ENJOY!!
Please Note
- If you don't have/use parmesan cheese then feel free to use mozarella or whatever you have at home - just add that to pasta right before the salt n pepper etc. when it is in the pan and let it cook and blend in.
- The tomato pasta sauce is
not essential - which means it should not stop you from trying this recipe.
I make my pasta 99% of the time using puree or chopped tomatoes and get the best tasting pasta ever!!
So go...... make urself some.