Spinach Paratha and Coriander Chutney
Ok.... finally! *you say!* ;)
Right, after quite a few weeks of disappearence from the scene since the launch of my "Kit*chen*blog" I'm here to share my first recipe with you today. By way of explanation for the delay, I wanted to post real pics of the food and what it looks like when I make it. This is because for me
Good Food = 30% Taste + 30% Smell + 30% the Look and 10% the chef!! ;)
And so I really wanted to publish my pics too. But then I misplaced the CD to load the mobile manager software and later cable to connect my mobile to the laptop.. ! :( *I'm soo careless!!*
Anyways.... cutting the long story short, I have decided to post the recipes with pics from google. I'll do my best to give you as tempting a pic as possible but please bear with me till I find a way to post my own pics.
-----------------------------------------
Please note
, that having tried the recipes soo many times, I have stopped measuring any thing, I just pop it in using my 'intuition'. That could also mean that some measurements may not be entirely accurate.
So, those who are regulars visiters to their kitchen *and actually cook* please use your discretion too, and others -
God knows
!! :D
-----------------------------------------
Right...
Spinach Paratha or Palak Paratha.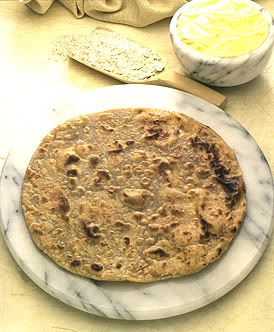 (No - Gals n guys who don't like green veggies - don't make faces. You can take it from me *who hated anything green - yeah I wonder how I survived being a veggie n hating greens!* that this paratha is addictive, so easy to make too that you'll make it any chance you get.
Ingredients--
100 -150 gms of frozen chopped spinach (thats like half the box)
OR Fresh spinach (but thats just too hard for me, to pick the leaves, then wash a zillion times, then chop etc..)
2 cups of Wheat Flour
1 finely chopped green chilli (optional)
1 finely chopped onion (optional)
2 teaspoons of turmeric powder *haldi*
1 teaspoon of cumin seeds *jeera*
1 spoon of Ginger + Garlic paste (aah! What would I do with out my ginger n garlic paste? I have a huge jar full of it and it runs out in no time)
Chilli flakes (optional or how hot u'd like)
Salt to taste
Method --
1. Put the box of frozen spinach in the microwave for a minute or till it thaws so the ice has nearly melted.
2. In a big bowl add flour, green chilli, chopped onion, turmeric powder, cumin seeds, ginger+garlic paste, chilli flakes and salt.
3. Add the thawed spinach to the bowl of dry ingredients. And water to the whole mixture and make the dough. Let it sit for an hour *if you can wait*
4. Make small balls and roll into parathas and cook on a hot tava with oil or butter.
5. Serve hot with pickles, yogurt and/or coriander chutney.
Coriander Chutney or Dhaniya Chutney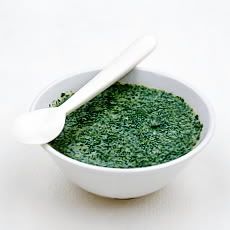 This is quick if you have it all ready to go.
Ingredients --
A bunch of fresh corinader leaves
1 spoon of dried mint flakes OR a few mint leaves
2 to 3 green chillies
Chilli flakes (optional or how hot u'd like)
Salt to taste
Method --
1. Add all the ingredients in a chopper/blender/food processor. Add some water if the mix is too dry, to get a thick chutney like consistency. Pour the paste in a bowl.
2. Heat 3-4 spoons of oil in a little pan and add this to the bowl of chutney. *I didn't know this trick, learnt from a friend here - this makes the chutney more... saucy!*
3. Enjoy with hot parathas, rotis or anything Indian.
I hope you guys get a chance to try this dish. Let me know how you go.
Take care!