Chivda Poha
It was hard to find a picture of Poha on google. That is why I have been planning to post this recipe for a week now and haven't been able to. I'm surprised that a picture of a dish as easy and tasty as this isn't there on the net at all!!
This pic I found below has cashews in it which I never use but if you love cashews then you are more than welcome to try them in it - I usually use peanuts.
So without further ado -here we go.
Chivda Poha -- Poha with flattened rice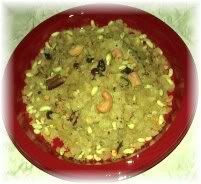 Ingredients --
2 cups of chivda/poha (flattened rice)
1 medium sized potato diced into small cubes
1 medium sized onion chopped
1/2 capsicum finely chopped
1 chopped chilli
2-3 table spoons of oil
2 teaspoons of turmeric powder *haldi*
1 teaspoon of mustard seeds *rai*
5 crushed cloves *laung* (optional, but they add a great smell to it!)
a few curry leaves
handful of peanuts (optional)
Chilli flakes (optional or how hot u'd like)
4 tablespoons of Lemon juice
1 tablespoon sugar
Salt to taste
Topping TIP

-- a packet of Haldiram's plain Bhujiya (optional, but its too good with poha!)
Method --
Preparation -
1. Wash the chivda with water and drain completely. Add some water (+ milk if you like!) and leave the mixture aside to soak.
2. Mix lemon juice and sugar in a small bowl and mix so that the sugar may dissolve.
Cook -
1. Add oil in a hot pan.
2. Fry the peanuts in oil and put aside.
3. Fry the potato cubes in oil and put aside.
4. Add mustard seeds to the heated oil and leave for a minute till they begin to splutter.
3. Add the chopped chilli, turmeric powder, curry leaves, crushed cloves and chilli flakes.
4. Add onions and cook till they are golden.
5. Add capsicum and fried potatoes.
6. Seperate the soaked chivda with a spoon or by hand and then add to the frying pan with other ingredients.
7. Add salt and juice mix.
8. Enjoy with Bhujiya topping!! :)