Kad-hi -- for the lazy and the not so lazy!
Kad-hi!
One of those curries that I loved so much, that I was scared to try my hand at making, because I thought I'd hate myself if I spoiled it or make it horribly wrong!!
But after seeing a distant family friend here in Melbourne make it infront of me - I thought, I should try this, this is easy! And there are
3 kinds
that you can make, the 2 very easy ones - and the 3rd just as easy one...but they all just taste so beautiful that you have to try them all atleast once!! :D
Kad-hi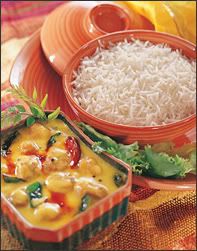 Ingredients --
For 'pakora-kadhi'
Please check out the
Pakoras post
for the recipe in detail.
Add finely chopped onions to the plain batter and prepare the pakoras.
For 'aloo-kadhi'
3-4 boiled potatoes cut into 1.5cm wide cubes.
For 'paapad-kadhi'
5-6 pappadums folded into quarters
*I use peppered Lijjat papad from the Indian store*
You can use them raw or heat them on flame and fold into quarters.
For the kadhi gravy --
1 large cup Yogurt
1/4 cup Besan (Gram flour)
2 teaspoons of turmeric powder *haldi*
1 teaspoon of mustard seeds *rai*
1/2 teaspoon of fennel seeds *saunf* (optional!)
1/2 teaspoon of asafoetida powder *heeng*
Chilli flakes (optional or how hot u'd like)
a few curry leaves
few tablespoons of oil
Salt to taste
Method --
1. Mix the yogurt and gram flour in a large bowl. Add salt, turmeric powder and some chilli flakes. Beat it well to make sure there aren't any lumps. Can add upto 1/2 cup water to keep it fairly liquidy! *whatever that it! :D*
2. Heat oil in a large pan and add asafoetida powder, mustard seeds, curry leaves and turmeric powder and chilli flakes and heat till it splutters.
3.
Only for 'aloo-kadhi'
- add the boiled potato cubes and cook for 2 minutes.
4. Add the yogurt mix to the pan and heat for 10-15 minutes.
5. For
'pakora-kadhi'
add the pakoras and for
'paapad-kadhi'
add the paapad, to the boiling yogurt mix and cook for another 5 minutes.
Eat with hot steamed rice!!!
*Still here?? Arrey go, make urself some!!*