Pakoras - the building blocks for 'kad-hi'!
Hey people!
Thanks so much to all of you who have tried the
parathas with chutney
,
yogurt rice
and
pasta
. I loved your feedback!
Its great to know that this is working - for someone out there!!!
I'll try and post simple stuff with as much variety as possible so you all can try and enjoy these recipes! And I am still taking suggestions and better ways to make these dishes so lets have those comments pouring in.
I love kad-hi (you are thinking why I have a - in between, I just think that helps pronounce the name better, don't you think?!) :) And I love kad-hi with pakoras in it so I thought before I can post the very easy kad-hi recipe, I should post - yes, you guessed it - PAKORAS!
And I'm sure anyone and everyone who has had Indian food has definately had some kind of pakora for sure. There is an amazing range of stuff you can make - if - you just get the batter right!
So without much ado -
Pakoras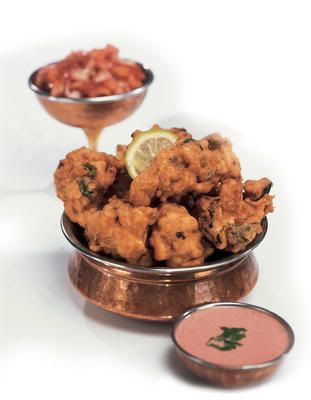 Ingredients (for batter)---
1 cup Besan (Gram Flour)
1 chopped green chilli
2 teaspoons of turmeric powder *haldi*
1 teaspoon of cumin seeds *jeera*
2 tablespoons of ginger/garlic paste
Chilli flakes (optional or how hot u'd like)
Salt to taste
TIP:
Add 2 tablespoons of Pakora Masala - I use Mangal's (i think) and it makes my pakoras just awesome!
Method ---
1. Put all ingredients in a medium sized bowl.
2. Add water, small serve at a time and mix the contents. Keep adding water till the mixture is fairly thick and fluffy....*tip* thick enough to easily coat the spoon. (Don't add too much water or the oil is going to spatter a lot!)
Done!
Now you can use -
Onion rings for Onion pakora
Potato slices for Aloo pakora
Eggplant slices for Baigan pakora
Cheese fingers for Paneer pakora
Pumpkin slices for Pumpkin pakora
Capsicum rings for Capsicum pakoras
Cauliflower florets for Gobhi pakoras
Can even add chopped spinach or cabbage to the batter - Go crazy with your imagination!!
Just dip the vegetables in the batter and deep fry them in hot oil till they are golden brown- they taste awesome with
chutney
.
I want to hear "your" version of pakoras - till next time......... with kad-hi!